Whether you are building new, completely remodeling, or just opting for a replacement, counter tops can completely transform the look of your kitchen. Happily, there are many design options in a wide range of prices and styles to fit your budget, usage needs and aesthetic but sometimes the options can be overwhelming. Our Dallas interior designers recapped our pros and cons on four of the hottest counter top options out there! to compare the needs of your family with the cost and durability of each style!
(Image credit: Zillow)
Pros: Marble is a classic material that has stood the test of time both visually and functionally. Depending on the marble it can be one of the most affordable stone options. It is available in many different colors. For the bakers out there that work a lot with pastries, it's known to stay cool and won't conduct as much heat as other type of stones. It also is easy to find!
Cons: Extremely heavy and needs to be well supported. Requires sealing and can be etched by acid, including citrus juice, alcohol and coffee. It is also vulnerable to nicks, cuts and can be damaged by high heat. For the type A's out there, it might cause you some stress while cooking so another stone might suite you better.
(Image credit: Rafe Churchill)
(Image credit: Red Design Studio)
(Image credit: Woon Stijl)
Pros: Requires occasional oiling but no sealing, making it an environmentally friendly design choice. Stain-proof and can stand high heat. Soapstone isn't as common as granite, and it's superb at resisting heat damage. Small scratches can be repaired by sanding finely and applying mineral oil. It is a non-porous stone so it never absorbs liquid like wine. It's one of the more environmentally friendly options as you will not need any sealers or toxic chemicals to seal it.
Cons: Softer than other stones, it can be easily scratched or dented. Its colors tend to darken with time and you have to oil regularly for the color to stay consistent, so bear that in mind when comparing it to your other decor elements. The selection on this stone is also not as broad as other stone options.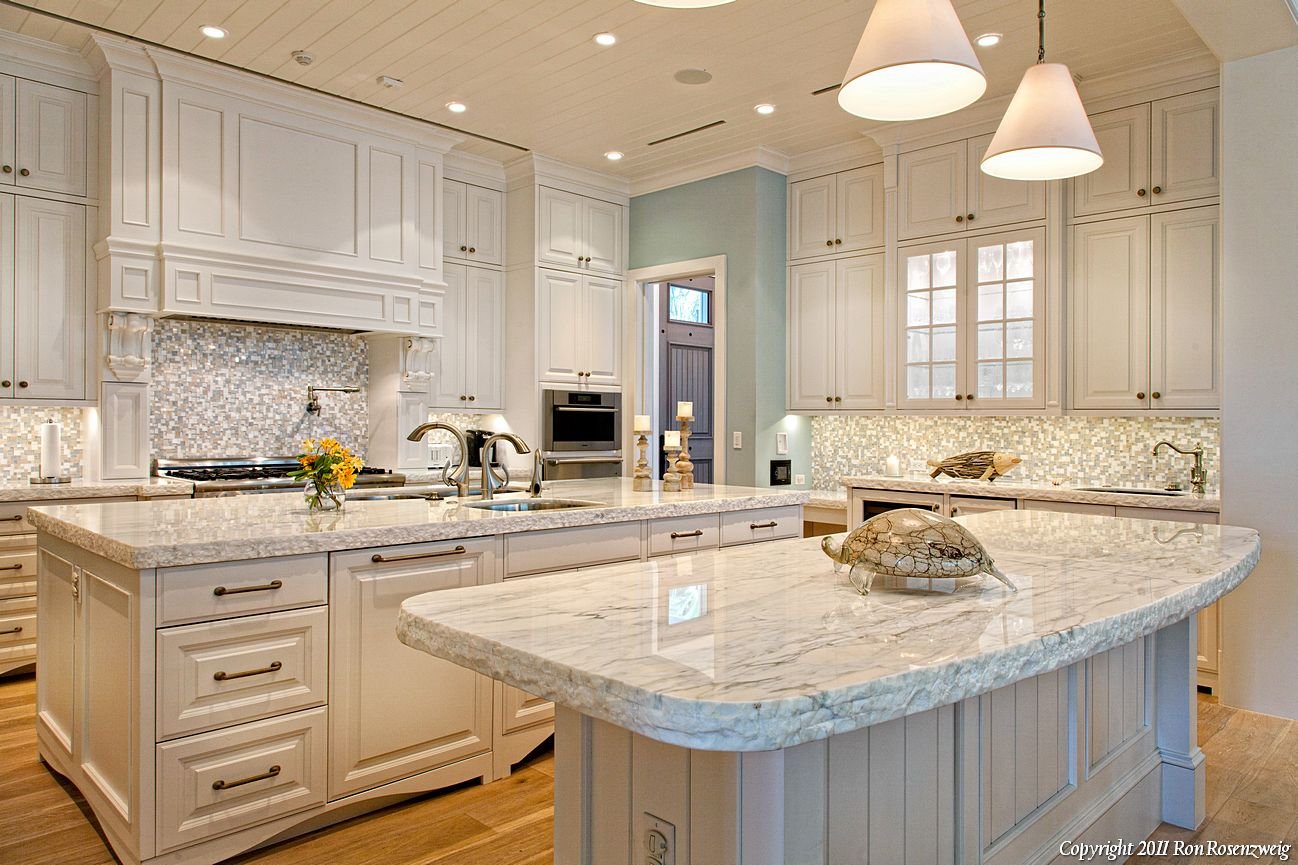 (Photo credit: Rebuilding Michigan Inc.)
Pros: Granite is a popular and beautiful design option because each slab of this natural material is truly unique. With the option of rare colors or unique veining, you can get a truly one-of-a-kind look if you are willing to pay a premium for this design aspect. It is stain, heat and water-resistant when sealed and requires minimal maintenance. You can choose between a polished or matte finish for the look you prefer and both are equal in resisting stains when finished properly.
Cons: Granite is very heavy and must be supported by strong, sturdy cabinets. Like quartz, the edges and corners can chip or crack and must be professionally repaired. Periodic resealing is recommended to avoid staining.
Pros: Quartz is a material which mimics the look of stone without needing the same maintenance. Quartz is a manufactured product which allows for a wide range of colors than you might find in marble or granite. Quartz has the same durability as granite and wont' chip or crack as easily. It doesn't necessarily need to be sealed and is more scratch-resistant than other stones. You can choose quartz in a variety of colors and patterns that look like granite or marble.
Cons: One negative is that you may have visible seams where the pieces meet and the edges and corners can chip which will need to be repaired. It is also not as resistant to hot pots and pans as a stone such granite and the price point is as much as granite and marble.
Our Dallas Interior Designers have loved and appreciated all the many design options in countertops over the years and hope these helped point you towards might be best for your design style.